Let's consider the increasingly high demand for remote positions today, and the fact that location is no longer relevant when it comes to hiring candidates. However, just as managing a remote team is slightly different from managing an in-house team, hiring one has its unique challenges too.
It's no secret that HackerEarth has helped several organizations successfully hire top tech talent, with customer obsession at the center of it all. 
To take this further, our team has worked tirelessly over the past few months on amazing features to optimize the user experience and make video interviews more fun. Here's unveiling new product enhancements in FaceCode to help you streamline your remote hiring process. 
Multiple interviewers—the wisdom of the group
Ever heard of the expression, "the wisdom of the group"? That's the principle behind adding multiple interviewers. Adding multiple interviewers has its benefits, especially in remote interviews where any hint of biased hiring must be eliminated. 
Having extra interviewers on board helps keep things impartial. Also, it brings more perspectives on the selection process and saves time. Additionally, having multiple interviewers gives some insight into how well a candidate can handle group dynamics and a variety of people.
Now, while scheduling an interview on FaceCode, you can add up to 4 more interviewers, before or during an interview, to analyze the skills of a candidate. Additionally, to provide better user experience, FaceCode has separate video feed for candidate and interviewers. 
Evaluation parameters—hiring isn't just a game of chance
Everyone knows the cost of a bad hire. But you know what's also pretty frustrating? Not having a clue about what went wrong in the decision-making process. 
Smart hiring managers have processes in place and know that hiring isn't just a game of chance. Additionally, savvy recruiters know that conducting structured interviews is an excellent way to screen and find the best candidates. Asking a set of questions in a structured interview format helps recruiters and hiring managers collect useful information from each interviewee that they can easily compare with other candidates' responses. 
To help you do just that, FaceCode now supports evaluation criteria, allowing you to conduct structured interviews. While scheduling an interview, you can manually enter evaluation criteria such as technical abilities, communication skills, problem-solving skills, etc., which act like interview scorecards. 
 When the interview is over, a pop-up with these criteria is shown to the interviewers, and candidates are evaluated based on a five-star rating system against each criterion. The hiring team can compile the rating for every candidate, compare rankings, and identify the strongest ones.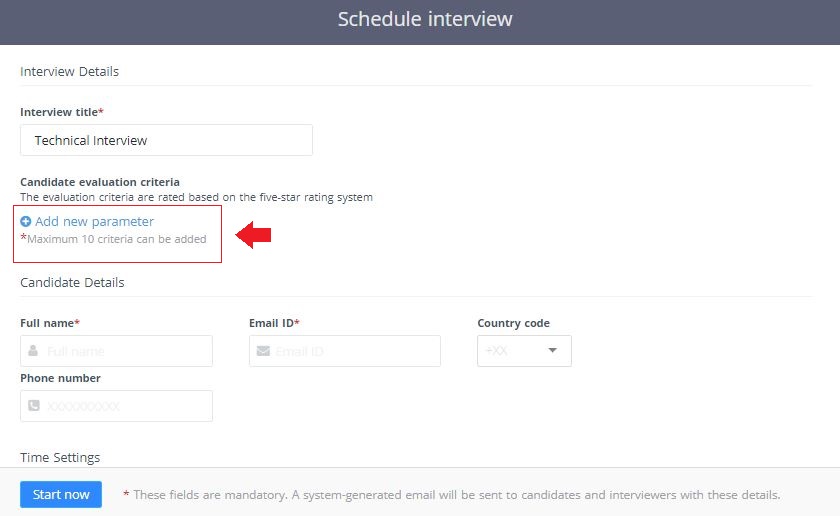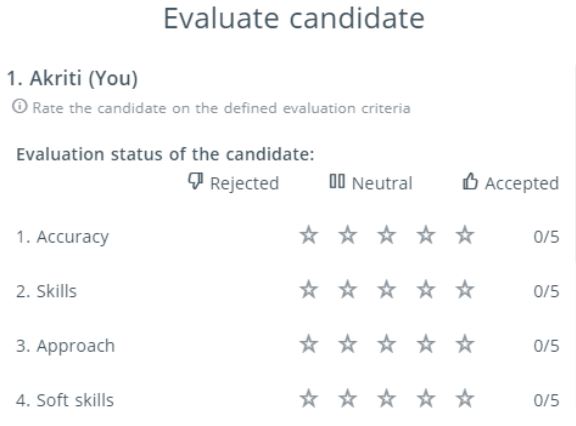 A collaborative online diagram board to help you seamlessly conduct system design interviews
When interviewers visualize a candidate's thought process, it's easier to understand, streamline, and communicate with them. A great way of transforming what's in a candidate's mind into an easily-shareable idea is through diagrams or system design interviews. 
However, we all know how hard it can be to conduct system design interviews even on a video call. We heard your feedback and we have integrated draw.io that allows you to create block diagrams and architecture design in a live interview. Thus, interviewers can evaluate a developer's system design, problem-solving, and role-specific skills. 
Once an interview is over, the final diagram is saved for interviewers and admins to preview later. 
Speech to text conversion—Say goodbye to distractions 
Sometimes, recruiters take notes during an interview to keep track of what is being discussed. However, if recruiters rely heavily on this technique, they may get distracted, reduce their involvement in the conversation, and miss out on important things. Also, it may sometimes be difficult to understand what the participants are saying or you may come across participants who are hearing impaired. 
FaceCode can automatically convert spoken words to written text during interviews. You can also turn on the Highlights feature that shows important information in the transcript, thus allowing you to focus on key parts of the conversation.
Please note: This is a premium feature. 

What's next?
We are excited to announce the following upcoming feature updates: 
To help interviewers pen down their thoughts during an interview,

a new feature called "Notes" will be added on the interview page. This feature will allow interviewers to note down highlights of the interview without navigating from the interface or moving to a pen and paper option.

When an interview is being set-up, there will be an option to add the candidate assessment report. The assessment report link will be available to the interviewers during the interview in the form of a button. 
Try FaceCode to refine your remote hiring process. If you need any help using this feature, write to us at support@hackerearth.com. If you're new to HackerEarth and want to create accurate coding assessments, sign up for a 14-day free trial.
Here's what you can do next
Check out FaceCode:
an intelligent coding interview tool