We believe the best way to build a great team is by celebrating each individual.
We give our people everything that's needed to succeed
Learning
Our goal as an organisation is to be open about where the boundary of our knowledge lies and to hire people smarter than ourselves to push this boundary outward. We've learned over the years that saying 'I don't know' is sometimes the best thing to say, because this openness about what we don't know has led to a plethora of learnings, and ultimately, successes.
Freedom
When an organization is small it is incredibly important to move quickly, and the only way of doing this is by having absolute trust in your colleagues' abilities. So, needless to say, we love to empower employees with the freedom to delegate, and also to grab ownership of a task and run with it.
Transparency
We firmly believe when we stay quiet despite our inner voice wanting to say something, the whole team loses out. So, we encourage our people to never forget that their thoughts, opinions and perspectives are welcome, whether the listener would like what they'd hear or not. To this end, we've ensured that any employee can reach out to any superior, including the CEO.
Leadership
We believe that when our people win, we win too. So one of our missions as an organization is to imbibe a sense of leadership in every single Hackster. We believe in providing all the tools necessary to become a leader in the near future. As a result, our people are better equipped to handle tough situations, whether that's during their stint at HackerEarth or otherwise.
The sky is no limit because of the values at our core
Don't be an asshole
We pride ourselves for having a work culture that is helpful, fun
and also treats everyone with respect.
Leadership Behaviors:
We are never an 'asshole' and ensure that no one around us is one
We care for our people
We are inclusive
Hunger for excellence
We love people that do the ordinary, extraordinarily and strive
to be better than the last time, every single time.
Leadership Behaviors:
We are obsessed about constantly raising the bar of performance for ourselves
We're obsessed about the impact that we create with our efforts
We always give, and also ask for honest, real-time feedback
We have a strong bias towards action
Disagree and commit
We encourage people to speak up or disagree, but in instances
where velocity is more important than consensus, we disagree,
but commit.
Leadership Behaviors:
We do not shy away from any conflicts
We make mistakes and learn from them
Customer Obsession
Our clients' success is our success and we continuously take
measures to empathise with our customers.
Leadership Behaviors:
We are obsessed with finding solutions for our customers
We are obsessed with the customer experience
We are obsessed with quality
We say no when it is required
Our growth story
Hello World
Somewhere on the campus of IIT Roorkee, a group of fledgling engineers charted their plan for world domination on a piece of tissue paper at their college canteen. The idea was simple: to help developers prepare for job interviews.
Some sleepless nights and copious amounts of caffeine later, a tech product came to be. It was called MyCareerStack, and pretty soon, people from colleges all over the country became users. There was no doubt: there was tremendous potential to go big.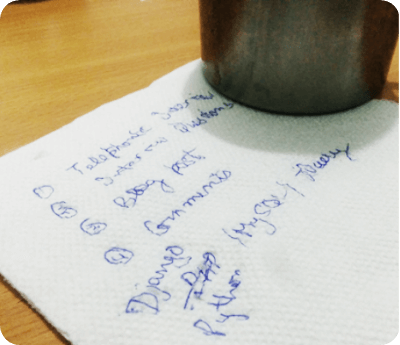 Entrepreneurs, for real
Roorkee isn't exactly known for its startup ecosystem, so when an opportunity to work at Google presented itself, CEO Sachin Gupta decided to take it up. He decided to work at Google and moonlight as a co-founder and CEO of his company while the CTO Vivek Prakash continued working from college, but within three months of joining Google, something magical happened.
The team received funding from GSF Accelerator. Shortly afterwards, the company was re-christened to HackerEarth, moved to an office in Indiranagar and went to work.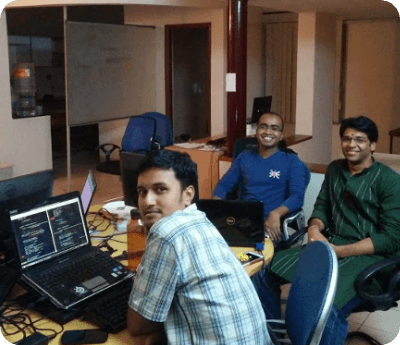 Core Technology? Check.
Out of that house in Indiranagar, the team built the core of the HackerEarth Assessments product the world sees today. Parallelly, the early embers of the HakerEarth developer community were ignited. Numerous HackerEarth community initiatives such as IndiaHacks, which was HackerEarth's biggest innovation campaign to date, were launched and fortune 500 clients were on-boarded.
This year was a launchpad for the team, and by the end of 2014, HackerEarth was on a course to become a leading solution provider to businesses, as well as a host to a vibrant community of passionate developers.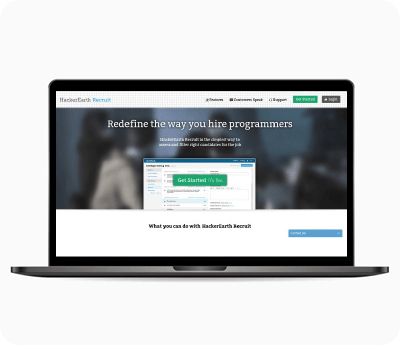 Sprinting as fast as possible
HackerEarth launched its second SaaS solution in 2015. It was named HackerEarth Sprint and enabled organizations to create and host a hackathon in five simple steps. Simultaneously, more and more businesses joined the HackerEarth network, after seeing the undeniable value that HackerEarth brings to the recruiting process, as well as the potential of hackathons.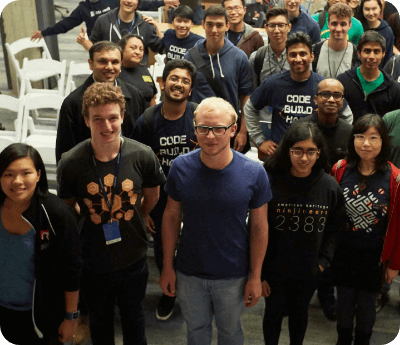 Milestones and memories
The team grew to a hundred passionate HackerEarthlings and moved to a real office space in Koramangala. The HackerEarth brand was launched to the world, and one of the most noteworthy hackathons to be hosted in silicon valley was organized by the team and notably, the HackerEarth community grew to 1 million developers. Looking back, it seemed as though every single day held a promise of great successes and growth in 2016, and this feeling prevails to this day.
Evolution
Riding on the tailwinds of a hugely successful 2016, the team went from strength to strength. Sprint evolved into a full-suite innovation management product, while HackerEarth's worldwide presence grew, with an office being opened in Europe and aggressive growth in the American markets. By the end of the year, the team had run 1,000 hackathons and innovation campaigns and the company had grown by another 100%.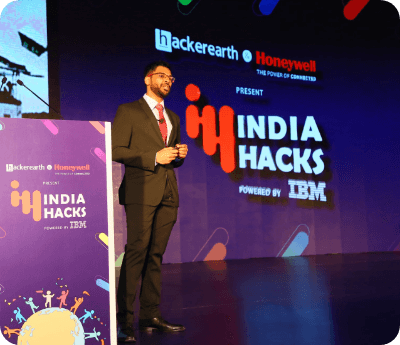 1000 happy customers
By 2018, HackerEarth had grown to over 1000 customers globally and the community was home to over 3million developers, and the groundwork was done to bring value to customers for the entire lifecycle of a tech team, from sourcing, to assessing and interviewing, to engaging developers within an organization.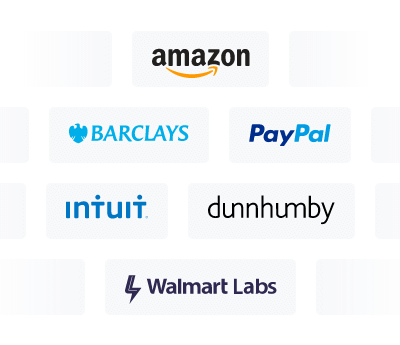 Coding interviews, perfected
The non-stop upward trend continued ferociously in 2019, with almost 100% growth. Further, HackerEarth launched another B2B SaaS product: FaceCode, an intelligent and easy-to-use coding interview tool that aimed to reimagine coding interviews, whether they were conducted online or in person.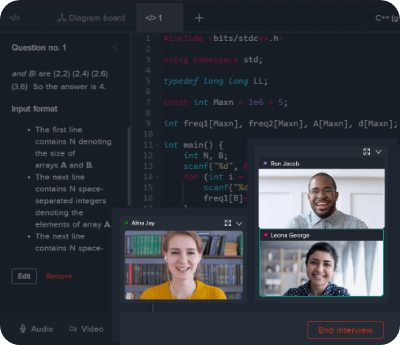 Remote Revolution
2020 was a challenging year for everyone, but it did not deter the team one bit. There was a 250% YoY increase in remote assessments, while FaceCode saw a 4000% increase in use from 2019, as the world was forced to transition to a completely remote way of working. To continue to help prepare customers for a remote-reality, a complete suite of products was assembled, including an upskilling platform, and of course the community grew even more, to a staggering 5.5 Million developers.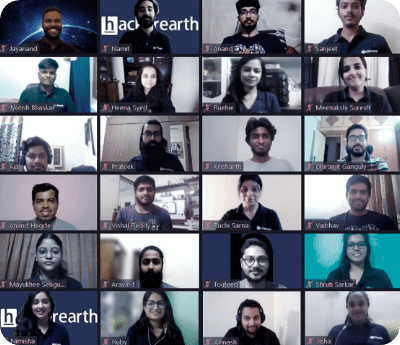 Going beyond
A solid foundation for becoming a leading solution provider for enterprises has been put in place with HackerEarth for Enterprises: a platform that helps organizations build great tech teams by helping them with everything from sourcing and engaging developers, to assessing, interviewing, and upskilling them. Parallelly, India's largest hackathon ever, the Azure Developer League Hackathon, was hosted on the HackerEarth platform.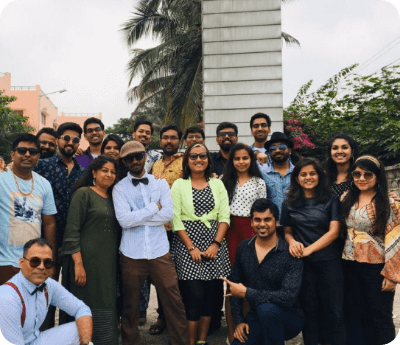 Ready to start your HackerEarth journey?