Case Study
Siemens
Using innovation to hire better talent
"It was amazing to see so many students come together. I've seen a lot of energy and motivation around. I believe the amazing results and presentations will have a huge business value. For the next steps, we hope the students will further work on their ideas and I am sure some of these ideas will make it through in the future and hopefully we at Siemens can provide them a platform and maybe some of them can join Siemens for future opportunities"
– Klaus Trescher, CEO and Managing Director, Siemens Technology and Services Pvt. Ltd.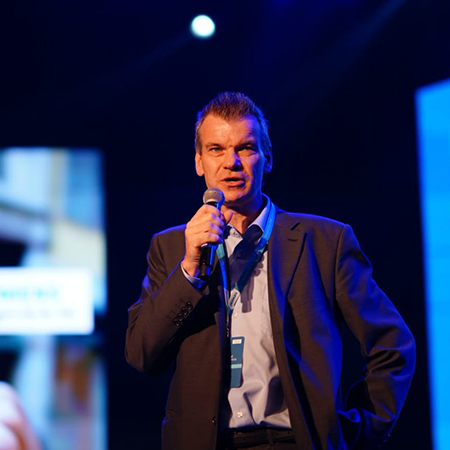 Siemens is a global engineering company and technology powerhouse, with a history of developing multi-disciplinary, innovative, and sustainable products and solutions for over 170 years. The present focus of the company is to electrify, automate, and digitalize the world around us. Siemens has around 377,000 employees in 200 countries/regions worldwide, and builds future-oriented products and solutions for digital factories, building technologies, energy, mobility, process industries and drives, and healthcare.
The 'why' behind the Siemens MakeIT Real hackathon
Every year, Siemens challenges young and ingenious students from India's top engineering colleges to turn their innovative ideas into technology prototypes in 24 hours.This serves as a great brand driver for the organization. The hackathon also opens up a prospective talent pool that the company can hire from. In this years hackathon, the challenge was to develop future-oriented and business-relevant solutions for the future of automation, cybersecurity, blockchain, data analytics, etc.
The future of automation – Siemens was looking to develop solutions for enabling intelligent behavior of manufacturing plants, automating already existing smart home systems, making smart grids more efficient, etc. The challenge was to use IoT to automate processes.
Cybersecurity – Under this category, participants had to develop prototypes that are related to cybersecurity/cryptography to enhance the security of Siemens's systems, products, and digital services.
Connectivity and edge devices – Here, Siemens was looking for smarter solutions in process automation, manufacturing, and energy sectors. The goal was to integrate systems and solutions into new IoT structures and deliver the greatest benefits for customers by linking various information sources.
Blockchain – Under this category, participants had to use blockchain to establish peer-to-peer communication between devices for automated software upgrades and bug fixes. In addition, they had to create blockchain-enabled data structures to change the way Siemens records, transfers, and stores data on the cloud.
Data analytics and artificial intelligence – Siemens was looking for solutions for newer, smarter medical technologies and smarter management and services for operators of power plants. It was planning to integrate the organization's customers' manufacturing processes into digital platforms, boosting efficiency through networked systems and self-learning machines.
Simulation and digital twins – Here, participants had to create smarter solutions to fully close the loop, from design to production and the performance of products and systems, so that information from the operation helps to optimize the initial design process.
Connected e-Mobility – The challenge was to develop integrated, sustainable transportation solutions that optimize existing infrastructure with high-tech hardware and smart-management systems, such as its connected (e)mobility.
674 Registrations
350 Teams
44 Submissions
Tetrachrome lenses – These smart glasses for visionless/low vision people make use of computer vision, embedded systems, and deep learning technology to create a powerful visual assistant. This device is capable of recognizing faces using a trained neural network . In case the device detects a new face, it saves those images for training of future machine learning models. The user can get information about what's happening around him by using an image captioning feature (textual description of the image). Also, the emotion detection feature will help the user to judge the level of engagement of people in the conversation. It can detect obstacles and can inform the user through a haptic feedback system.
HealthChain – This application makes use of Hyperledger technology to provide a healthcare solution that maintains healthcare information on one single system and provides a seamless process of managing hospital visits and medical insurance.
Securing critical energy infrastructure using blockchain technology – This novel solution tries to minimize the theft of power using blockchain and data analytics to secure the smart grid infrastructure. This can be used to identify if a phasor measurement unit (PMU) has been attacked and isolate it before it can cause a blackout in the system.
How was the overall experience with the hackathon?
"I am really excited after seeing the ideas and brilliant concepts especially if you think about the markets immediate necessities and seeing how these technologies can help social problems.
This is what Siemens also advertises -'Make IT real' (sic)"
– Mr Subramanya MR, VP, Siemens Technology and Services Pvt. Ltd.
Innovate and build a better business