Case Study
How HackerEarth helped MoEngage drive a 50% improvement in the quality of candidates interviewed
MoEngage is an insights-led customer engagement platform for customer-obsessed marketers and product owners. Founded in 2014 and headquartered in San Francisco, MoEngage drives customer success and product innovation across the globe, with offices in 9 countries.
MoEngage helps everyone from Fortune 500 enterprises such as Deutsche Telekom, Samsung, and Ally to mobile-first brands such as Flipkart, OLA, and BigBasket with amplifying customer engagement across the lifecycle.
The brand was named a "Strong Performer" in The Forrester Wave™ Cross-Channel Marketing Hubs, Q1 2023, and the #1 Mobile Marketing Platform in G2's Spring 2021 Momentum Report. MoEngage is driven by a vision to build the world's most trusted customer engagement platform backed by the most comprehensive AI engine. 
It is this core principle that has steered them to becoming industry leaders in customer engagement. With rapid growth, the brand has been pursuing strategic measures to extend the platform's capabilities, bring greater value to users, and expand its geographical footprint.
Goals and challenges faced
MoEngage's international expansion strategy is focused on investing in product innovation, strengthening communities, and building function-specific and market-specific teams to solve the engagement challenges of consumer brands. 
The company was already a leading customer engagement platform in India, and had decided to set up another research and development (R&D) center in Hyderabad. These R&D centers are the core of the organization, where the products are actually developed and designed.
Naturally, aggressive expansion comes with aggressive hiring. And given that MoEngage heavily relied on manual screening and interviews to hire for product, engineering and other functions, expansion became a challenge. Hiring managers or interviewers had to interview each and every prospect to identify candidates with the necessary skill sets. This was time consuming and challenging, and with the hiring targets, the process couldn't scale adequately.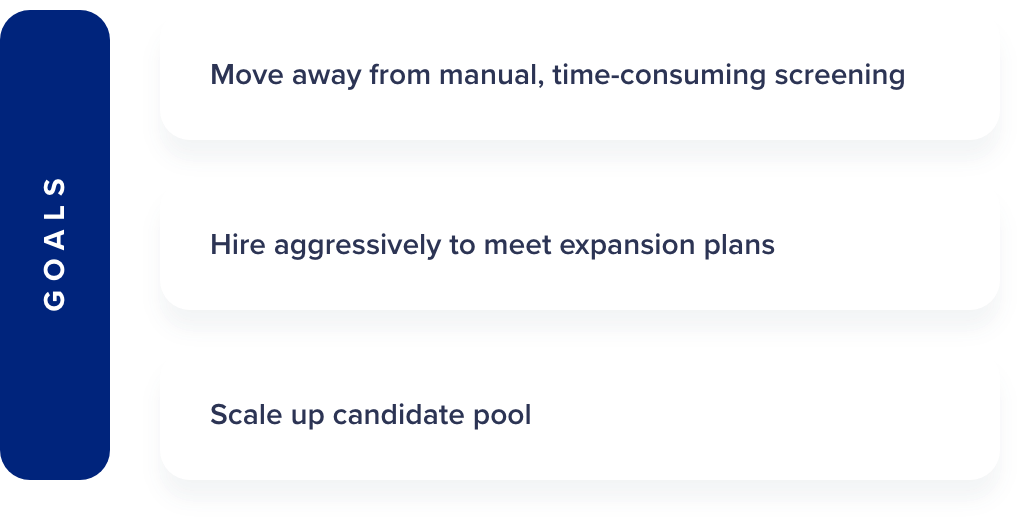 The team wanted to better support existing customers, while tapping into a wider talent pool.
To solve this, MoEngage decided to introduce an additional step into their hiring process by screening the candidates before technical interviews.
With HackerEarth, MoEngage introduced a new step in their hiring process. The company began screening their candidates, and eligible candidates were subsequently invited to take a remote assessment on HackerEarth.
By making HackerEarth Assessments a part of their hiring process, the MoEngage recruitment team could effortlessly filter out candidates who did not meet their requirements. So, only candidates who cleared the test and had the required skill sets moved into the interview stage. 
This resulted in a 50% improvement in the quality of candidates who make it to the technical interview round.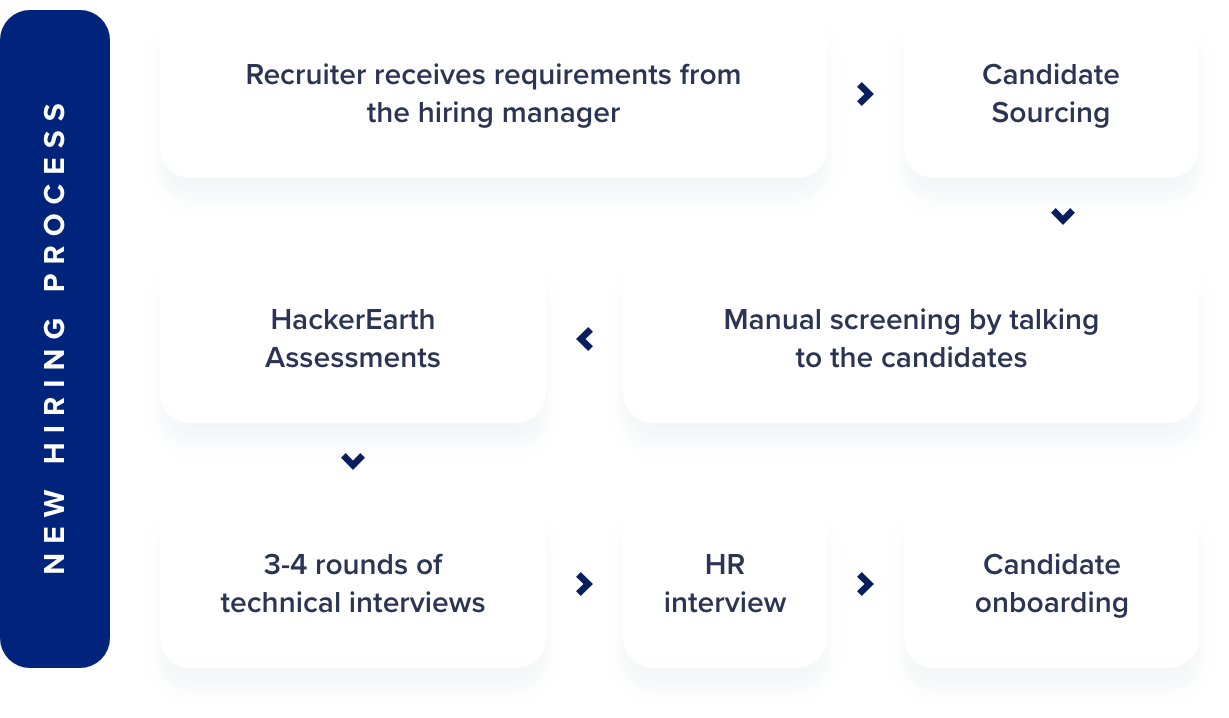 Another advantage was that HackerEarth eased recruiters' bandwidth as recruiters were no longer screening manually, therefore, they could invite more candidates to take up the test, and filter out the top performers from its results. This allowed them to reach out to more candidates and expand the candidate pool. 
Thanks, in part, to the time savings that HackerEarth provided, the MoEngage team expanded their talent pool by 400%. The funnel also became more streamlined where, instead of interviewing 15 candidates for a role, the interviewers only had to interview 5-6 candidates to find the right candidate. Thus, using HackerEarth led to an improvement in the quality of candidates interviewed.
Further, hiring managers could also login to the platform to observe the test report, view the code written by the candidates, and evaluate based on the report. They also got a sense for the candidate's skill levels from the skill report which highlights every candidate's strengths and weaknesses. This meant that interviews could be structured based on real insights into the candidate's strengths and weaknesses. Moreover, access to all the candidate assessment reports on a single platform made it much easier to ensure collaboration between recruiters and hiring managers.
The easy-to-use nature of HackerEarth and the analytics it provides, have helped the MoEngage recruitment team expedite the process while remaining precise. The whole hiring process – from sourcing to onboarding – is more effective than ever, and now takes just 10-12 days.
"What we really liked about HackerEarth is the user-friendliness of the tool and the analytics it provides. It gives us rich insights about a candidate's performance – where exactly they have done well, and where they haven't – and helps us make precise decisions."
– Ashish Mahajan, Global Head Talent Partner, MoEngage
As MoEngage continues to expand its presence in the existing markets and grow to newer markets, they are finding it easier than ever to hire top developers and to meet the expansion needs. Simply put, making HackerEarth a part of their hiring process has been a key part of MoEngage's strategy to scale their presence across the world.
Effortlessly drive campus engagement with our hackathons