Case Study
Microsoft Azure Hackathon
To achieve a good degree of visibility for Microsoft's cloud platform, Azure, and also to achieve adoption by the developer community, Microsoft teamed up with HackerEarth to create a unique, fully virtual hackathon.
The event carried Microsoft Azure branding and threw down the gauntlet for developers everywhere to contribute their ideas and solutions in line with five unique themes. 2 months, 9600+ registrations, and 75 final prototypes later, HackerEarth had organized and executed one of the biggest virtual hackathons ever and helped solidify Azure as the go-to cloud platform in the minds of thousands of developers.
Problem statements were created under five themes:
Cure for COVID-19
Financial Technology
Insurance and Banking
Transportation Open Innovation
Participants would submit their ideas under a problem statement of their liking, between March 2nd and May 3rd, 2020.
The best ideas would be shortlisted for the prototype phase. Participants would build and submit their prototypes using Microsoft Azure between May 13th and June 1st, 2020.
During the course of the challenge, participants had the opportunity to attend a webinar by Aaron Bornstein, Senior Cloud Developer Associate, Microsoft.
They also had the opportunity to attend an Ask Me Anything session with Ashish Sahu, Cloud Solution Architect, Microsoft, and Nandeesh Swami, Azure Rapid Response, Microsoft.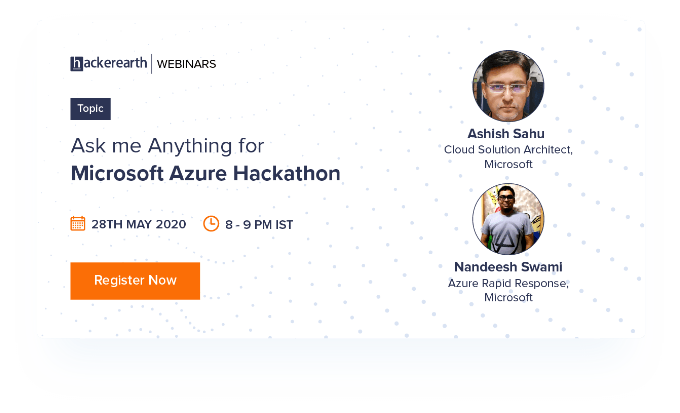 In addition, to these activities, community connects were organized, and a slack channel was maintained too.
9620 participants and 8708 team from across 36 countries and over 20 companies.
Azure Services Used
Out of a total 159 teams, 101 teams indicated the Azure services they used.
Air Pollution Monitoring and Real Time Gas and Smoke detection System based on Azure IOT Edge.
Dhaval Thakkar
Principal Solution Architect (Heroku) at Salesforce

Know more >
Share to Secure Application for Blockchain Enabled Insurance on Azure Blockchain Marketplace.
Kshitija
Software Developer at Tata AIA Life

Vishal Abhang
Associate Manager at HDFC Life

Utsav Mishra
Software Developer ML/AI at Tata AIA Life Insurance Company Ltd

Know more >
Central KYC Ledger.
Hari Charan
U Research and Development Engineer at HPE

Shubham Garg
Software Engineer at Hewlett Packard Enterprise

Know more >