To view the shortlisted teams, please click here!

We make cities better places to live
Imagine.
At some time in the near future you may reside in a niche, high end residential complex. This premier apartment complex rises to a 100 floors and you are given an access card to avail all the facilities including parking and unlocking your front door. The moment you enter the complex, after swiping your card at the gate, the intelligence system knows that you are going home. You park your vehicle and enter the lobby. The electronic screen at the lobby informs you which elevator, in the bank of elevators, is waiting to take you to your floor.
Yes, that's what smart elevators are. They are sensible, intuitive & forward thinking. By using a mix of technology, research, market knowledge and out of the box ideas, we strive to transform our learnings into a product or a solution that will indeed make cities a better place to live.
With that spirit, KONE is conducting a hackathon in partnership with IBM – Bringing Ideas To Life and invites all developers and hackathon enthusiasts to participate in an interesting and engaging hackathon.
And what's even better? You get to use the IBM Bluemix platform to build your product. Innovation is at its height with IBM Bluemix.
Bluemix is IBM's open platform for building enterprise applications tailored for your industry. Use our open source code on Bluemix, then pair it with services and apps to enhance and expand your application. With developer-centric compute models, instant access to over 150 services – including ones that facilitate modern architecture and delivery practices around mobile, microservices, DevOps and continuous delivery – Bluemix makes it easier to ship powerful, high-quality software every day.
The top 10 teams from the 2nd phase will get to go to KONE's Chennai R&D centre for the final Phase 3 round and work on actual elevators to showcase their ideas and build something to make People Flow® more effective and smarter.
Hackathon Details: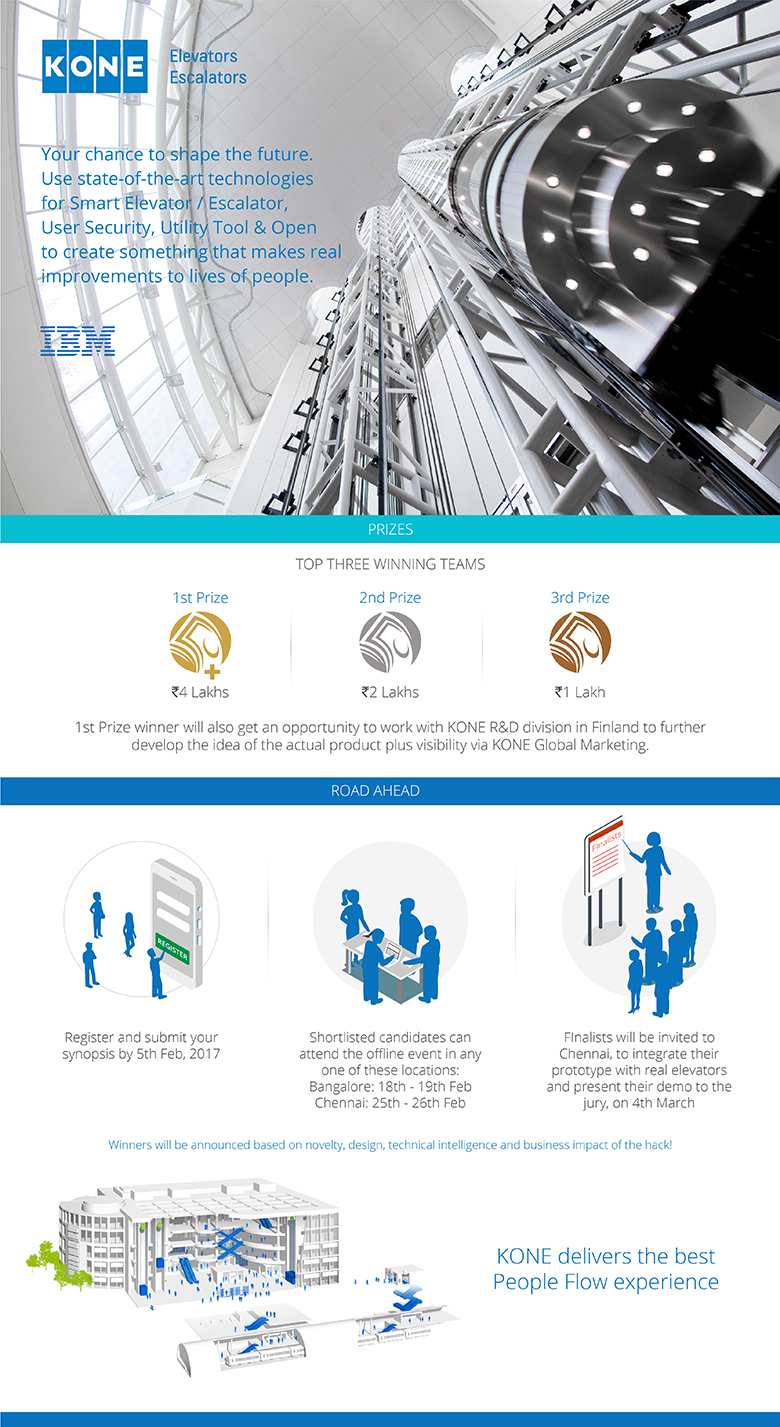 Kone At InterConnect with GM, Harriet Green:
About KONE
KONE is one of the global leaders in the elevator and escalator industry. KONE's objective is to offer the best People Flow® experience by developing and delivering solutions that enable people to move smoothly, safely, comfortably and without waiting in buildings in an increasingly urbanizing environment. KONE provides industry-leading elevators, escalators, automatic building doors and integrated solutions to enhance the People Flow in and between buildings. KONE's services cover the entire lifetime of a building, from the design phase to maintenance, repairs, and modernisation solutions.