ANNOUNCEMENT
Here is the product canvas & progress indicator by Mahendra Hotte for your reference. We are excited to see what you do with it!
Click here for product canvas
Click here for progress indicator
---
Open to students and project staff of IISc only
Reimagine the future of geriatrics, health & safety for MSME and healthcare sectors.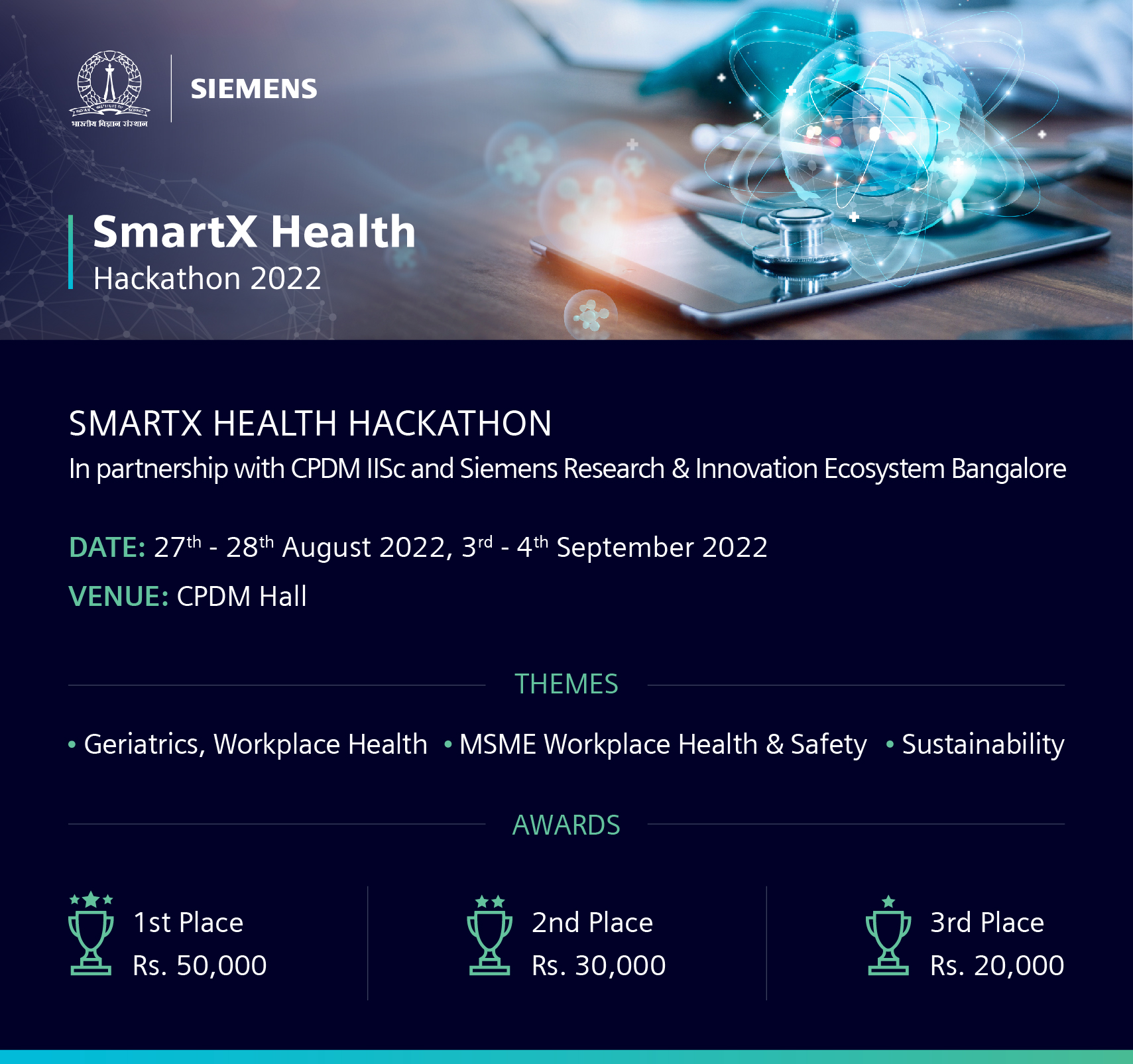 It's an opportunity to turn your ideas into reality!
---
Context
A Siemens Research and Innovation Ecosystem Initiative for India.
"SmartX for Health" Hackathon will be conducted at the Centre for Product Design and Manufacturing (CPDM), Indian Institute Of Science (IISc), Bangalore.
Foster curiosity and technical vigor amongst participants at IISc for developing technology solutions pertaining to health, safety and sustainability in the MSME & healthcare industries.
---
Technologies
---
Key Dates & Timelines
Hackathon phase 1: Activities will include visit to hospitals, elderly care centers and MSMEs to observe and identify problems and opportunities. This is a 24hr hackathon activity and teams must assemble at CPDM hall across the following dates and timelines.
Hackathon phase 2: Activities will include ideation, prototyping and pitch to Jury. This is a 24hr hackathon activity and teams must assemble at CPDM Hall across the following dates and timelines.
---
What's in it for you?
There is a lot in store for winners of the hackathon
Attractive monetary awards for top three winners
Opportunity for top ten teams to develop their idea into proof of concept (PoC) in a 45 day post-hackathon challenge at IISc's CPDM (https://incubator.cpdm.iisc.ac.in)
Opportunity for top six teams to turn their PoC into a Minimum Viable Product (MVP) in a 90-day challenge at IISc's CPDMED TBI
Funding for the top 6 MVPs to be further incubated at IISc's CPDM
Great opportunity to translate your idea into a startup in the next one year!
Register now as a participant!
---
What happens after the hackathon?
A great opportunity to turn your idea into a startup!
The establishment facilitates innovation and entrepreneurship for realization of their ideas through to commercialization.