Announcement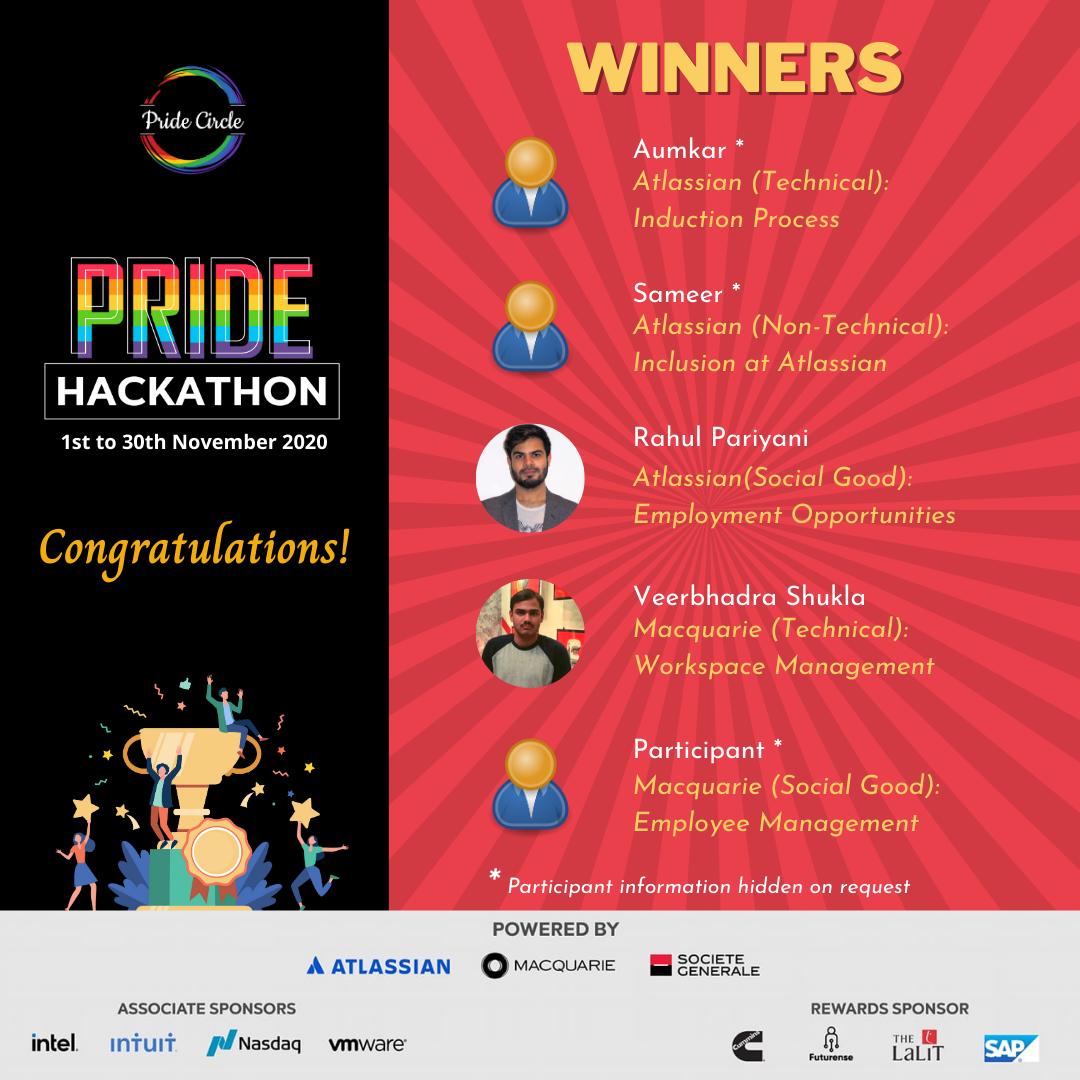 ---
What is Pride Hackathon 2020?
First-ever LGBT+ exclusive Hackathon in India, a unique and a virtual safe space to Ideate, Collaborate, and find Solutions to Technical, Non-Technical, Social Good tracks, to secure internships, jobs and WIN exciting prizes. This will be an individual event.
Who can participate?
Anyone who is at least 18 years of age as on November 1, 2020
For the LGBT+ community* only (students, freshers, and working professionals with an experience ranging from 0 to 15 years)
For the Pride Hackathon 2020, we are looking for individuals who could bring in:
✅ Creative Ideas
✅ Unique Solutions
✅ Out-of-box thinking
✅ Ease of Implementation
✅ Potential Impact
❌ Coding knowledge or experience not mandatory
*Your identity and other details will be kept confidential. You need not be an OUT LGBT+ person to participate in this event.
---
Why Participate?
Get your resume spotlighted to the companies
Opportunity for Internships and Job Interviews
An opportunity to be mentored by seasoned industry experts
And, Win exciting prizes!
And, all of this for FREE!
How can you participate?
A participant can sign up for a maximum of 3 challenges which can be from the same track or different tracks (Technical, Non-Technical, Social Good). You should choose the one/ s that you are passionate about and would like to solve.
This Hackathon is an individual event and not a team event. You need to sign up and solve Problem Statements individually.
Click here for step by step instructions to register.
If you have any queries or questions, please write to medha@thepridecircle.com
Want to know how to register, create your profile, submit your solutions, and more? Watch this video below:
---
Which are the 3 Tracks?
You can choose to participate in a maximum of 3 problem statements in any/all of the following:
Technical
Non-Technical
Social Good
---
What is the Judging Criteria?
Innovation and Novelty of the idea
Presentation of the Solution (in depth analysis and supporting data points)
Financial feasibility of the idea (minimum investment leading to maximum results)
Simplicity or Technical feasibility of the solution
Bonus points for any possible working prototype
Format - Your solutions can be submitted in either PPT, PDF, or Word Document format.
Additional evaluation criteria may be provided by companies in the problem statement.
Want guidelines or pointers on how to solve the Problem Statements? Watch the video below: