Announcement!
Congratulations to the winners of the Hackathon !
Winning Team : Anonymous
Runners up : Sudo apt-get team-name, Qwerty killers & Illuminati
---
These are the shortlisted teams for the GE Digital IIoT hackathon round 2
View GE Digital IIoT recorded webinar to understand the concepts of IIoT & APM.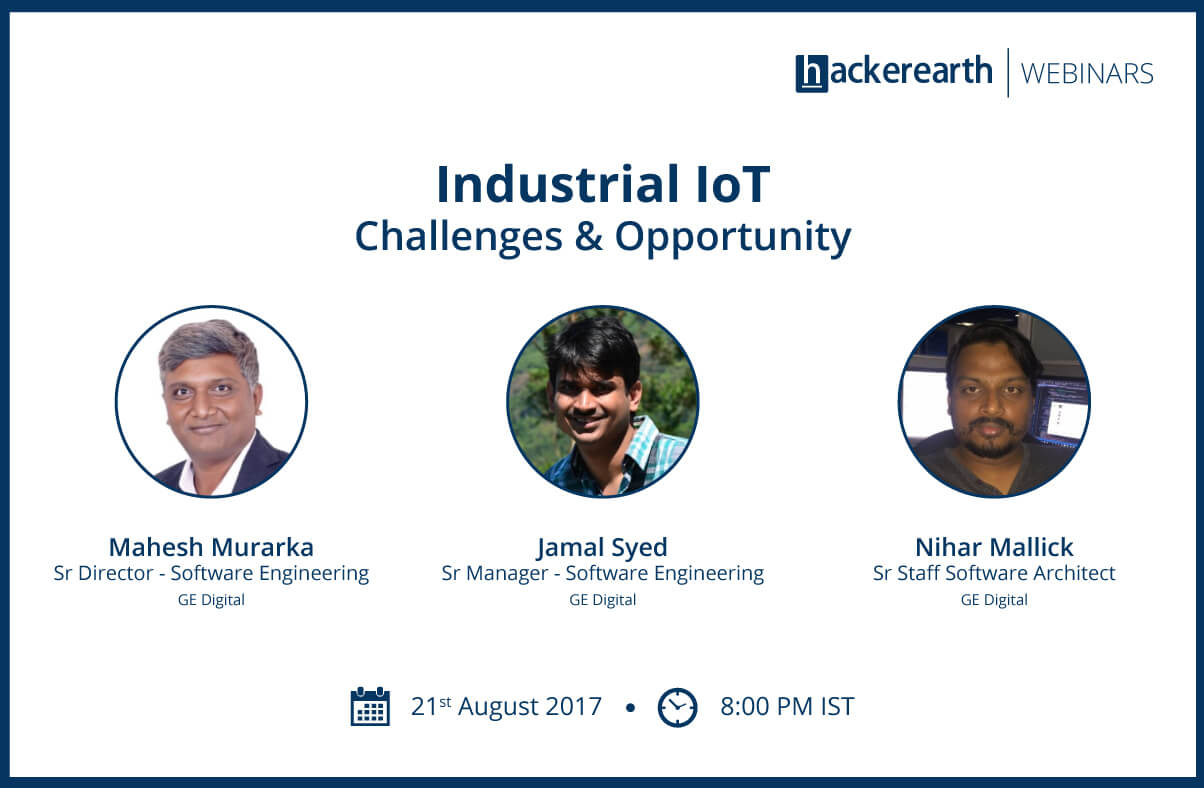 Welcome to GE Digital IIoT hack. The hackathon is to encourage and recognize cool ideas that can revolutionize the industrial internet of things. GE Digital is looking for talented developers who can build innovative solutions around IIoT, Smart City, Smart Machines, Healthcare. These are substantial, high-impact projects that are at the intersection of the digital and physical worlds. So, Can you make machines smart?
This is a closed hackathon for pre-final and final year engineering students (B Tech and Dual Degree) to showcase their hackathon ideas to GE leadership team and win exciting prizes.
What happens when 50B Machines become connected?
The world is becoming more connected - it's not just consumer products, but major parts of infrastructure, such as turbines and jet engines. The Industrial Internet of Things (IIoT), also known as the Industrial Internet, brings together brilliant machines, advanced analytics, and people at work. By 2020, GE estimates there will be 1B smart meters installed, 100M light bulbs connected, 152M cars connected and 10B terabytes of data off GE machines.
Timeline
Phase 1: 26th July - 27th Aug
Submission of ideas, as a team of maximum 3 members. We encourage diversity in teams so invite team members from other streams/ branches
Phase 2: 1st - 24th Sept
- Shortlisted Teams announcement
- Submission of the prototype built by the shortlisted teams
Phase 3: 27th Sept (tentative)
- Virtual presentation to GE Panel
Phase 4: October start (tentative)
- Top 4 teams will be invited to GE Digital Bangalore office
- Presentation of ideas and working prototype to GE Leadership
- Reward ceremony
About APM (Asset Performance Management)
This is to give you an idea about what APM does.
Visit Resource Center to know more and kick start your project.
Note: GE Digital Hackathon is open for these participating colleges