What do top innovation managers have in common
Today, more companies around the world are welcoming a new addition to the C-suite—the chief innovation officer (CINO)—who is tasked with championing and guiding organization-wide innovation efforts. Although the term "chief innovation officer" was coined in 1998 by Miller and Morris in their book, Fourth Generation R&D: Managing Knowledge, Technology, and Innovation, it has gained currency only in recent years. Earlier, R&D units used to be the bastions of innovation. Now, innovation has taken on a broader meaning ("open innovation") and extends to people inside as well as outside organizations.
Accenture's 2015 US Innovation Survey found that 63% of companies were appointing CINOs. This figure had increased by 9% from the survey that was conducted in 2009. PwC's Global Innovation Survey 2017 provides further evidence that innovation is high up on the agenda of most firms. Of the 246 CEOs surveyed from around the world, 64% responded that innovation and operational effectiveness were equally important to the success of their company.
So, what do successful innovation officers have in common?
The CINO role is multidisciplinary and requires a combination of traits that are hard to find in each other's company. While the CEO is responsible for directing overall company strategy and creating a vision for the future, the CINO is required to take charge of the vision by taking calculated risks and creating a space for new ideas and creativity.
CINOs are not necessarily great innovators, however they can recognize potential innovation opportunities and galvanize company will and resources toward them.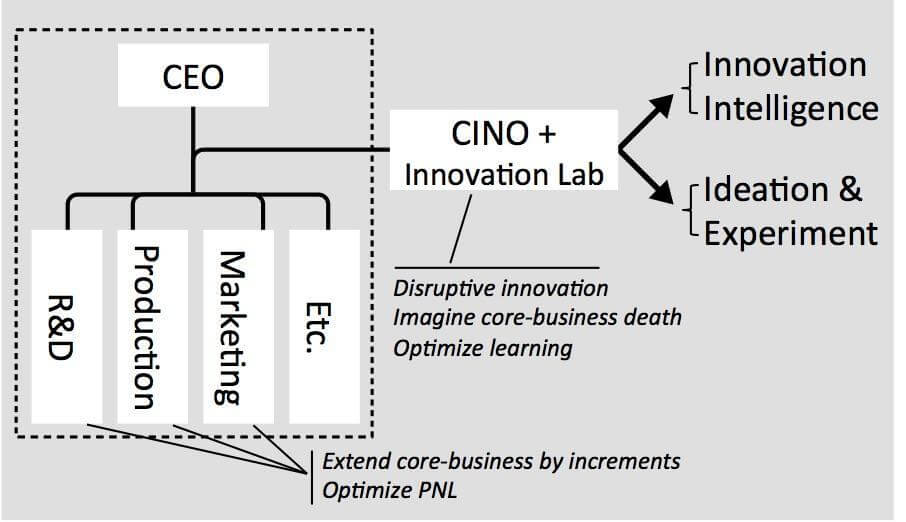 1. Excellent People Management Skills
Top innovation managers understand that collaboration is key. Among the first tasks of the CINO is the need to bridge the gaps between various C-level executives and gain organization-wide buy-in. It is important to engage the senior executive leadership team effectively instead of simply aiming for nodding acquiescence.
The CINO is able to communicate the company's vision to various levels of people such that it becomes their own. He/she can build connections both within and outside the company to enable the gathering of insights and inspirations that are necessary for the innovation cycle. He/she can also employ design thinking and promote his/her technology team.
Manoj Kumar, Head of Innovations, Tata Trusts, believes that
"innovation is the lifeline of any business and if you don't, someone else will disrupt you out from your market."
He adds,
"I expect innovation offices to become the in-house incubator and accelerator of innovative ideas and create a pipeline of new solutions that can catapult the business on a non-linear growth trajectory."
Since innovation efforts are usually met with apprehension, CINOs are able to align their innovation strategy with the company's strategy and quickly provide tangible proof of concepts or prototypes. This helps boost collaboration and enables more manual tasks to be automated.
2. Excellent Communication Skills
One of the reasons why innovation strategies are met with resistance is the fear of job loss. CINOs are able to explain the concepts of artificial intelligence in simple and relatable terms to all levels of people. They describe how jobs will not be lost. Instead, the nature of laborious jobs will change to allow employees to focus their time and efforts on more value-added tasks. Being able to explain high-level technology terms in simple language is necessary to put people at ease and gain their trust. CINOs demonstrate the credibility and feasibility of their innovation efforts by releasing actual prototypes for the employees to try.
Ideally, CINOs should be seasoned professionals with the experience of handling several senior executive leaders.
3. Keen Business Understanding
Even if the CINO has not worked as an entrepreneur or an "intrapreneur," it is important for him/her to think like one.
Top CINOs have a sharp understanding of the culture they are working in, which helps them decide when to follow precedent and when to take a new path. It also helps them gain insights into how to get buy-in to implement an innovation effectively. According to Srikant Gopal, former vice president of global innovation at Nestle Purina Petcare,
"The way I look at it is, we can get some of the key stakeholders on board and get enough of them to neutralize the hopefully small minority of naysayers. In a large company, that's probably the most realistic outcome."
Katharina Borchert, Chief Innovation Officer at Mozilla, says,
"The CINO role often includes analyzing trends and identifying emerging new market opportunities that guide investment decisions."
4. Adequate Technological Understanding
CINOs may be defined as enablers who design processes and introduce best practices that allow the creation of a space for others to develop and drive novel concepts. CINOs do not necessarily hail from technical backgrounds, but have sufficient knowledge to enable them to assimilate technical data and derive intelligent conclusions.
Although most companies have separate teams dedicated to technology watching, trend analysis, and market analysis, these teams do not communicate with one another to share their findings. The CINO focuses on boosting collaboration between these teams to enable intelligence-driven innovation.
Conclusion
Innovation involves an in-depth understanding of an organization's business, its customers, competitors, and usage of data. Chandrahas Panigrahi, Chief Marketing Officer and Business Director of Acer India, says,
"The CINO role involves more responsibility compared to the fancy designation; other key requisites include analytical skills, excellent interpersonal skills, strong business knowledge, inquisitive and creative mind to develop inventive strategies and direct new projects."
About the Author