What is design thinking and how can it help you innovate?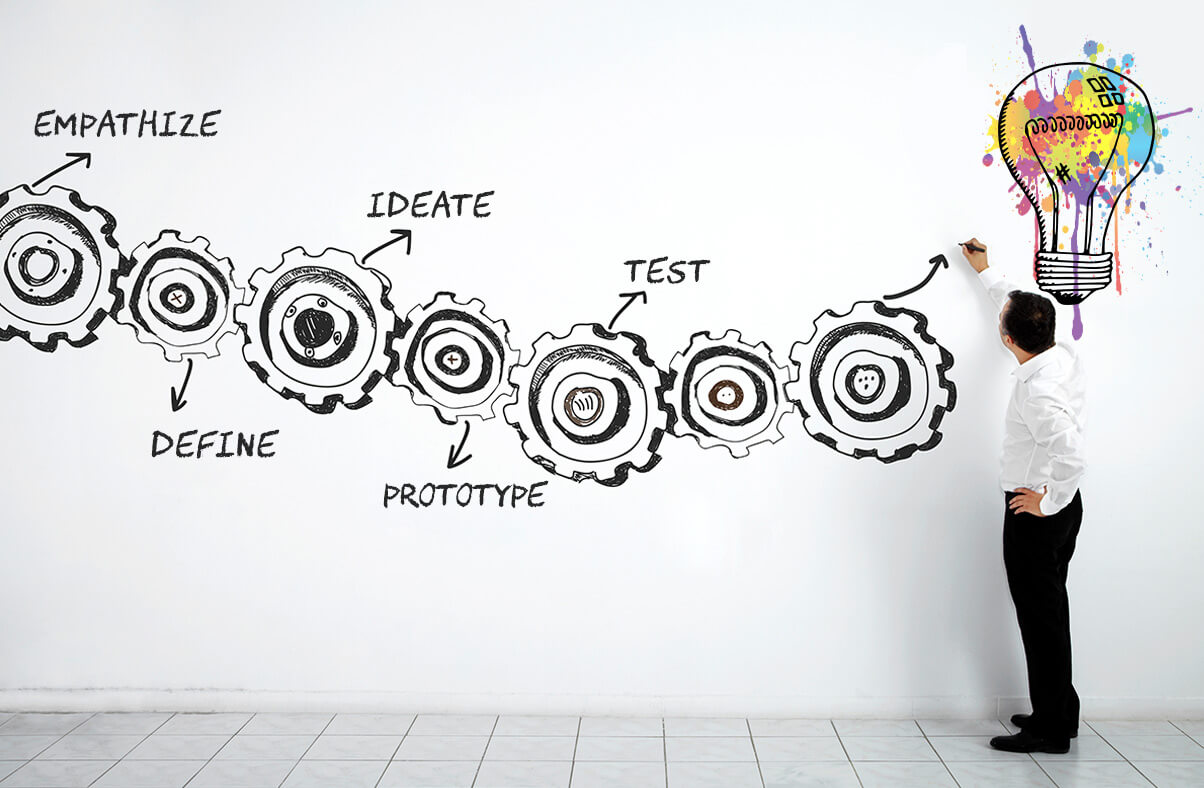 "Design thinking can be described as a discipline that uses the designer's sensibility and methods to match people's needs with what is technologically feasible and what a viable business strategy can convert into customer value and market opportunity."

                                                                                     – Tim Brown President and CEO of IDEO
According to Karl-Heinz Streibich, CEO of Software AG,
"Digital Darwinism is unkind to those who wait."
Today, the business world recognizes that continuous innovation and design thinking are the keys to long-term sustainability and success.
Design Thinking is NOT a New Concept
With all the hype around design thinking, one would think that it is a new concept. In fact, efforts to give creativity a structured form have been going on for over 40 years.
Herbert A. Simon, an influential twentieth-century social scientist, published a book titled "The Sciences of the Artificial" in 1969. His work has given birth to many of today's important scientific concepts—information processing, artificial intelligence, organization theory, attention economics, computer simulation of scientific discovery, and complex systems. His research into problem-solving and decision-making is important from the point of view of creativity and innovation. Simon formulated the three stages of decision-making—intelligence gathering, design, and choice (IDC).
In 1973, Robert McKim published a book called "Experiences in Visual Thinking," which built on Simon's work and explored ways in which perceptual thinking skills could be observed, utilized, and bettered, and how these skills have a powerful "capacity to change your world of ideas and things."
The term "design thinking" was popularized by Rolf Faste in 1980, director of the Stanford Joint Program in Design, who took McKim's work further. He defined design thinking to mean a "whole person approach to problem-solving centered on the perception of needs."
What is Design Thinking?
Simply put, design thinking is an action-oriented and solution-focused methodology used to solve complex problems, such as those faced by organizations in a highly competitive and rapidly changing environment. The focus is not on the problem, but on the solution that will give rise to a preferred future.
Design thinking is not just for products; the concept can be applied to the workplace itself.
Leaders and managers can design the way they lead, manage, innovate, and create.

Design thinking can also be applied to protocols, procedures, systems, and user experiences.
Survey results of Design Management Institute's 2014 analysis show that design-led companies such as Coca-Cola, Nike, Procter & Gamble, IBM, Whirlpool, and Apple have maintained a significant stock market advantage for the past 10 years and have outperformed the S&P 500 by 219%.
Stages of Design Thinking
Source: Forbes
The design thinking process comprises six stages: empathize, define, ideate, prototype, test, and implement. The process flow is not necessarily linear—some stages may be repeated or revisited.
1. Empathize
A big part of the design thinking process is the ability to empathize with the people for whom you want to create value. This stage involves gathering data about your customers by ethnographic methods such as experience mapping instead of traditional methods such as surveys and focus groups. These traditional methods are not considered reliable or useful in the early innovation process because people are not necessarily good at recognizing and giving voice to their latent needs.
2. Define
Once you have complete knowledge about your customer, use the information to discover where their problems exist. While narrowing down on the problem(s), identify opportunities for innovation.
3. Ideate
This stage involves generating creative ideas to address issues that have been defined in the previous stage. It is recommended that team members get together to tease out their individual ideas and then share them with each other, thus allowing a remixing and expansion of ideas. Some ideas are tested for feasibility in the next few stages.
4. Prototype
To test if the chosen idea(s) work, a real prototype is created. By inviting feedback on the prototype, an impact versus feasibility study can be done for each idea. Thus, new ideas are treated as hypotheses that are to be tested instead of assuming that they will work using estimates made with existing data.
5. Test
Ask customers for their feedback on your prototype. Answers to questions like "Does this solution meet the needs of the customer?" and "Has this solution improved the way that customers feel or think?" will determine what improvements or variations are required.
6. Implement
In this stage, the solution is converted into reality and is delivered to customers. This final step is crucial because true innovation can only take place if the implementation of the solution is done properly.
Advantages of Design Thinking
Source: NNGroup
1. The design thinking process is flexible
Design thinking phases are marked by iteration and are meant to be cyclical. Most often, a team returns to the empathize and define stages after a prototype has been built. This happens because they can determine if a solution works only after a physical framework has been created. At this point, referring to consumer research is helpful to answer questions like "What other information about the customer is required to make decisions?"
Phases can also be repeated if team buy-in has not been established. Usually, the define phase is prolonged because various team members have different definitions of the problem to be solved, owing to their different backgrounds.
2. The design thinking process is scalable
The design thinking process can be applied to all sorts of real-world problems, big or small. It can be used to tackle difficult, undefined problems which may otherwise be overwhelming. Design thinking does not apply to just problems of business. It is useful for a wide variety of issues—economical, environmental, or social.
Design Thinking vs. Traditional Business Approach
A popular misconception is that design thinking is riskier than the traditional business approach that managers take to solve a problem. Managers extrapolate existing data to predict the success of an idea and then use revenue metrics to decide if the launch of the new product/service is successful. However, design thinkers treat ideas as hypotheses and test them, using behavioral metrics to improve their product/service before finally launching it.
Managers tend to see people as target markets categorized by demographics, whereas design thinking recognizes that people buy products and services and people's needs and preferences are important. Thus, design thinking focuses on observation to identify people's needs and emotions.
Educating Leaders in Design Thinking
A wide range of educational resources is available today to educate people about design thinking.
The Massachusetts Institute of Technology (MIT) launched a design thinking course in 2016 in collaboration with The Emeritus Institute of Management. Titled "Innovation of Products and Services: MIT's Approach to Design Thinking," it is a course that "blends the perspectives of marketing, design, and engineering into a systematic approach to deliver innovation, and enables professionals and students to learn how to take a similar approach in their own businesses." Since then, around 115 professionals from 12 countries, spanning various industries like software development, consulting, manufacturing, and marketing, have taken the online course. The course boasts of an 89 percent completion rate, thus proving its value. The course has also helped generate ideas on diverse subjects like shower water recycling, compost indicating garbage bags, precision agriculture, applying virtual reality to workouts, and child education in remote areas.
To help leaders integrate design thinking in their leadership styles, Harvard Business School (HBS) Executive Education will launch a new program called Reimagining Strategy: Applying Design Thinking to Your Organization starting February 2018. The program is designed for the C-suite and other senior leaders who are instrumental in the creation and execution of strategies in their organizations.
Tim Brown, CEO of IDEO, also has a few thoughts on leading a design-driven organization. He believes that every leader should adopt four stances—Explorer, Gardener, Player/Coach, and Storyteller—instead of playing a single role.
Design Thinking in the Corporate World
Steve Jobs is probably the most recognized design thinking leader in the world, as he took Apple from personal computers to iPhones and iPads in his quest for "insanely great products." Jobs' design philosophy was supported by six pillars: craft, empathy, focus, impute, friendliness, and simplicity.
Since 2012, IBM has been working towards actualizing a bold vision of training its entire workforce (~377,000 employees worldwide) to think, work, and feel like designers. The company is also filling its ranks with "design researchers," ethnographers with MFA degrees. Phil Gilbert, the general manager of design for IBM software, says, "The design researcher has been the most disruptive of the design disciplines we've brought in—and by far the most transformative."
In 2004, the "innovation and design" firm IDEO worked with Shimano, a Japanese bicycle components manufacturer, to understand why 90% of adults in the United States did not ride bicycles. The interdisciplinary project team discovered the following reasons behind the problem:
Complexity and cost of sophisticated bicycles

Intimidating retail experiences

Danger of cycling on roads with heavy traffic
As a solution, the project team developed a concept called Coasting. To popularize it, they created new in-store retailing strategies and launched a PR program to identify safe places to cycle. They also created a reference design to guide designers at companies, which later manufactured Coasting bicycles.
Conclusion
Design thinking exercises are not the abstract flights of fancy that they are made out to be. For a design thinker, there are no constraints of money or space. He/she only considers the amount of resource that exists and its impact on the customer. This allows the design thinker to be free of the existing mind blocks with respect to resources and instead focus on what can be achieved within realistic constraints.
To sum up, as managing partner of Smart Design, Richard Whitehall says, "Design thinking is a series of tools and processes, but it's more of a philosophy, which has to be learned through experience and working on different projects."
About the Author