When innovation led to a reversal of fortunes
The term innovation has been much bandied about this decade. Although a hackneyed word especially in the world of education and business, "innovation" has much in its favor. It is not just meaningless verbiage like some of us believe it to be. (Read WSJ's "Is a Peanut-Butter Pop-Tart an Innovation?" for some bit of honest and brutal humor.)
There are plenty of expert definitions of innovation out there. And here's a good one: Executing an idea which addresses a specific challenge and achieves value for both the company and customer.
Weathering the perfect storm
Companies are leaving no stone unturned in their attempts to drive innovation, be it radical, incremental, or breakthrough.1 They are competing to stay ahead in the global marketplace by innovating cost effectively.
If companies don't innovate in today's business environment, they could fall by the wayside like Polaroid, Kodak, and Woolworths. These were big companies. Jackie Fenn, an innovation specialist at Gartner, says, "Size can add to the challenges. A strong brand can have a fear that failure may damage its reputation. But you cannot afford to stay still - business is a moving escalator. The world is moving around you - customer expectations are changing, competitors are always catching up and threatening to take away your business."
Source: www.everestbusinesscoaching.com
Here's a look at top companies who took customized innovation routes to pull themselves back from the brink of failure:
APPLE
Frequently branded the most innovative company in the world, Apple has its own drama to tell. But it successfully reinvented itself.
Before
The accolades didn't come easy. It was close to bankruptcy in the late 1990s with rivals BM, Dell and HP eating up the market. The company had a paltry 4 percent market share and losses of over $1 billion. Mac's unique features were shadowed by the premium price. (Read this if you want to delve deeper.) Huge layoffs and millions of dollars in losses drove the company to adopt a business strategy that focused on capabilities. Market expansion was what Apple needed, not a sizable chunk of the PC market. The company lost trying to emulate other PC makers; they were solving the wrong problem.
After
Then, Microsoft invested $150 million (!) and Apple came back. Jobs began by changing the company's image and ran his "Think Different" advertising campaign, which glorified individuality. He knew that copying his competitors wasn't going to help. He also knew that these old-regime companies would not easily adapt in the age of sophisticated communication devices. He focused on a few target products and services and he did them well.
Source: https://hbr.org/2011/08/apples-innovation-premium
He stabilized the business. Even though the Mac business was picking up, it was only in 2001, with the release of the iPOD (now retired) disrupting the digital music market, did Apple start soaring. Buying music online via iTunes and creating portable music players such as the iPod (don't forget the iconic white ear buds) completely changed the music business, pushing Sony's Walkman out of the game. "The iPod wasn't the first MP3 player out there — before it came out I'd used models from Rio for my runs — but it took the shortcomings inherent in the existing products in the market and improved on them," said Jonathan Seff of MacWorld.
Source:https://qz.com/263306/a-memorial-for-the-classic-ipod-which-changed-apples-fortunes-forever/
"The iPod certainly raised the awareness of Apple and opened up the brand to consumers that may have had misconceptions about the Mac and may not have considered it in the past," said industrial analyst Ross Rubin.
The company strives to form an expanding series of value-adding services and gadgets, such as the iPhone, MacBook Air, and iPad, which enhance user experience and beat competitors at every step. Apple's breakthrough innovations laid the base for upgrades, which are routine innovations, raking in billions. Apple has refashioned consumer experience with its iconic branding, stylish design and a diverse product range, its own retail stores, and important partnerships with the competition.
LEGO
The Danish toy-brick maker Lego, founded in 1932, reported its highest revenues ever in March 2017. Although the company may be witnessing flat growth in the US, it is beautifully afloat in a sea of competitors such as Mattel Inc., braving new markets such as China, continuing to be a model of sustaining innovation.
Before
The climb has been quite an uphill task for the iconic toy designer. Lego overcame its near-demise situation when the then president, Kjeld Kirk Kristiansen, decided that innovation was the only way out in 2001. But despite a surge in sales, Lego began floundering again. Video games became more popular. Mattel caught up. Their producing tons of bricks inside-the-box strategy didn't work. Many of its outside-the-box experiments—LEGO theme parks, TV shows, clothing, accessories, electronic toys, learning centers, and Harry Potter- and Star Wars-based toys—failed. Disruption just wasn't working for the Billund-based company. "Bionicle" was the only saving grace.
After
In 2004, CEO Knudstrop embarked on a back-to-the-basics journey, and went from a loss of $292 million that year to a profit of $117 million in 2005. As Business Analyst Mark McQueen, said, "Knudstorp quickly identified that the Lego group had over-innovated, spread itself far too thin and had launched so many new initiatives that the company had lost a 'crisp sense of identity. It was a case of too many products and not enough profit." On top of structuring management and operations, every new idea was to be consistent with the company's goals.
Source: Bearing Consulting
The company found a low-risk, high-reward "around the box" innovation strategy, one that is well-informed. The company focused on this third approach, one of producing low-risk innovations revolving around its core product. The LEGO movie is a successful example of this strategy. LEGO also released movie-based kits, other merchandise, books, McDonald Happy Meal toys, and web apps. The company created an experience "around" the movie and engaged its buyer compellingly and completely.
"Controlled innovation has clearly worked. That is the lesson learned at Lego — just in time," says David Robertson, Professor of Practice teaching Innovation and Product Development at Wharton. (His book Brick by Brick is a must read.)
Lego has managed to wring sustainability by adopting the Lean startup approach. Its R&D wing, the Future Lab, is "tasked with inventing the future of play." The disruption rebels even meet in Spain for a week-long team building exercise and brainstorming, concluding it with a 24-hour hackathon of designers, programmers, business managers, Lego geniuses, and more. The company encourages open innovation via Lego Ideas.
Here is a good read about how Lego became the Apple of toys.
NETFLIX
Another turnaround story is Netflix's using tons of data to drive innovation and beat competitors and challenges. It is a story of disruptive innovation.
Before
CEO Reed Hastings went from mailing DVDs to streaming videos to producing shows from the late 90s to the 2000s. His risky gamble was offset by early mover advantages. When Hastings began the movie subscription business, he didn't even touch Blockbuster's market. Yet when video streaming became popular, "Netflix was able to appeal to Blockbuster's core audience by providing, a wider selection of content with an all-you-can-watch, on demand, low-price, high-quality, highly convenient approach."2
Source:https://blogonmanagement.wordpress.com/2015/05/18/disruptive-innovation-in-the-video-rental-industry-story-of-netflix/
And Blockbuster went bust.
After
Ignoring pessimistic analysts, Netflix has disrupted its business model. Twice. Innovative thinking put it right ahead of the curve. Hastings even invested millions of dollars in research on streaming and buying rights at the turn of this century. He experimented with pricing models. He bided his time. A decade later, Hastings allowed his consumers to choose streaming over DVD subscription for half the price.
"In 2010, we passed a significant milestone with the majority of our subscribers viewing more of their TV shows and movies via streaming than by DVD. Going forward, we expect we will be primarily a global streaming business, with the added feature of DVDs-by-mail in the U.S," said a company report.
He then had television in his sights. Emmys for its shows such as House of Cards and Orange is the New Black are proof enough, aren't they?
Innovation is ingrained in its organizational culture. Look at this seminal presentation that's been shared over 13 million times.
Responding to customer requirements with amazing ideas such as Netflix Socks, entering into strategic partnerships with giants such as Verizon and Comcast, anticipating the market, leveraging changing technology, and understanding that not all innovation comes from new ideas have helped Netflix bring home the game.
NINTENDO
From creating playing cards for Japanese businessmen to becoming a gaming console giant, you can wager that Nintendo knows something about innovation. Just about everyone knows Mario!
A determined Yamauchi battled Sony and Microsoft for years with innovative hits and misses. Creating legendary characters, such as Donkey Kong and Zelda, for decades has been its USP, becoming a disruptor along the way. The gaming environment has been tumultuous, no doubt.
Before
In the 1990s, Nintendo's Virtual Boy fell flat on its face. Sales of Nintendo's home consoles continued to dwindle slowly, but it was still the dominant player in the handheld device market. By mid-2000s, powerful Sony and Microsoft had Play Station and XBOX that were offering far superior experiences. And they became strong contenders in the gaming market. Nintendo's hardware was just not on par with the dominant players.
The company survived because of Gameboy and Nintendo DS.
Source: https://samidob.wordpress.com/category/nintendo-wii-business-model/
Nintendo's new disruptive innovative strategy involved engaging non-gamers rather than trying impress "bored" gamers, outselling its competition. Nintendo's simple and intuitive Wii (released in 2006) was hugely successful. In place of the static gaming experiences XBOX and PS offered, the joystick feature of Wii ensured that the players would get some exercise too! Then the competitors released add-ons to the market. However, XBOX Kinect and PS Move didn't enjoy similar popularity.
What next?
Then 3DS was released in 2011. Although it did better, it was nowhere close to what DS had achieved. Nintendo released Wii U in 2012. And with no third-party support, sales were dismal. If you thought GameCube was bad, Wii U was worse.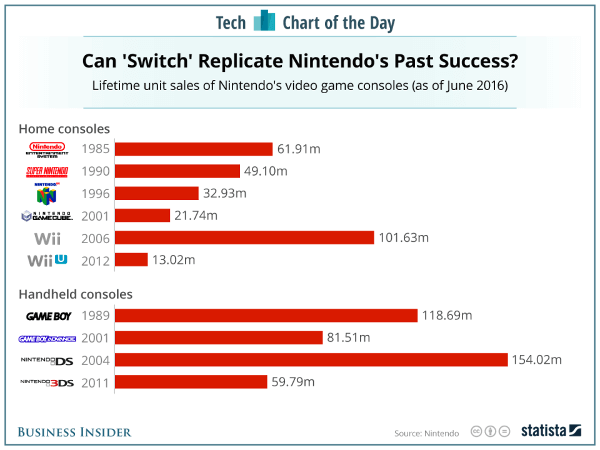 Source: Business Insider
After
Nintendo watched its revenues decline, accepting that online and mobile gaming are inevitable. How was the Japanese company to deal with low-cost smartphone games? But wouldn't this then be a case of self-cannibalization?
Nintendo doesn't seem to shy away from risks; the Japanese company is not interested in replicating competitor offerings.
Anyhow, the company showed that it creates its own landscapes with the phenomenal success of augmented reality-based Pokémon Go, and a moderately successful Super Mario Run. As always, Nintendo bet on customer experience and not so much on design, sound, or animation. In its first month, Pokémon Go made $143 million, Clash Royale made $107 million, and Super Mario Run made $71 million in worldwide gross revenue.
Reggie Fils-Aime, Nintendo America president, says, "From a Nintendo perspective, we believe in creating products and experiences that are unique and really can't be copied by our competition. That's our mentality. I don't really care what our competitors do. We need to do what plays best to our strengths, and what we believe is going to motivate the consumer to engage with our products." Its products may not have exciting hardware specs, but Nintendo is certainly original in terms of ideas and experiences.
Conservative market research analysts predict that by 2020, the sales of Nintendo's new multiplayer portable console, Nintendo Switch, released early this year, will be 40 million units. Switch has a lot of work to do. Fingers crossed!
HAIER
Since 2009, Haier has been taking top spot on Euromonitor International's major appliances global brand rankings.
Before
The Chinese company's radical innovation approaches brought it back from the brink of bankruptcy in the 1980s, with a debt of over CNY ¥1.4 million. Chairman Zhang Rumin's genius turned it from a company that sold less than 100 refrigerators a month, which were shoddy and frequently faulty, to a USD38 billion company that is today known for its top quality. Since 1984, the company has had four phases in its innovation journey: Brand building, Diversification, Internationalization, Global brand, and Networking.3
After
An early partnership with the German company, Liebherr, in 1985 gave it access to better technologies. Haier has proved itself to be an enforcer of innovation that is customer responsive. It used a performance linked to pay system, Overall Every Control and Clear (OEC), which helped meet ambitious goals. Haier remodeled its traditional strategy that was hierarchy driven and top-down to a new model whose features included self-managing teams, a flat organizational structure, open innovation, and "zero distance to the consumer," for which ZZJYT units were created.

Source: Haier (Note: ZZJYT is zi zhu jing ying ti, which means independent operation units.)
Haier has become synonymous with indigenous innovation. Niche products such as the vegetable washing machine, the "Little Prodigy," and mini refrigerators formed the base for quality innovation that kept its Western counterparts out of the Chinese market. The company has adapted, knowing that catering to consumers in an increasingly connected world is no walk in the park. Zhou Yun Jie, Haier President, says, "If companies want to stay alive and even thrive, they have to keep continuous evolution and innovation."
 "No company is promoting management innovations on such a large scale and in a systematic manner like Haier. Each employee of Haier has the opportunity to become an entrepreneur who can start up his or her business on Haier's platform to directly create value for customers," says London School of Business & Economics Professor Gary Hamel. Haier has embraced open innovation to go from a traditional manufacturing company to an Internet-based one that supports micro enterprises. Nearly 80 percent of these small businesses have over 100 million Yuan annual revenue.
Source: http://www.bain.com/publications/articles/developing-markets-organize-for-growth.aspx
Zhang says, "Haier is only a platform for innovation and every employee can be their own CEO." (His speech on Rendanheyi 2.0 is quite an interesting read.) Haier's win-win Model of Individual-Goal Combination is completely in keeping with his focus on the Internet. The essence of this model or Rendanheyi is: I create my own users and I share in the value I added.
Apparently, Haier finds reinventing quite easy. It has done it successfully—repeatedly.
Lessons aplenty
Stories of these companies talk about embracing failure and looking ahead, about creating an innovation culture and rewarding initiative. These companies have come back from a near-death situation to thrive. They refused to be labeled innovation laggards and go peacefully into the night.
They have charismatic leaders who though beyond appeasing shareholders in the short term. They anchored innovation strategies in the organization by focusing on the objective, be it business reinforcement or creation of new business.
They answered questions such as "Why innovate?" Where to innovate?" "How much to innovate?" and "With whom to innovate?" and lucked out. Although breakthrough innovation may not be possible on demand, there is some magical combination of theoretical and practical approaches which works for every company looking at sustainable growth.
Over 500 companies use HackerEarth Sprint to propel innovation
Citation
1 PwC Advisory Oracle practice 2012
2 Business Insider Australia
3 The Source of Innovation in China: Highly Innovative Systems edited by Y. Zhang, Y. Zhou
About the Author