Innovation management software: Everything you need to know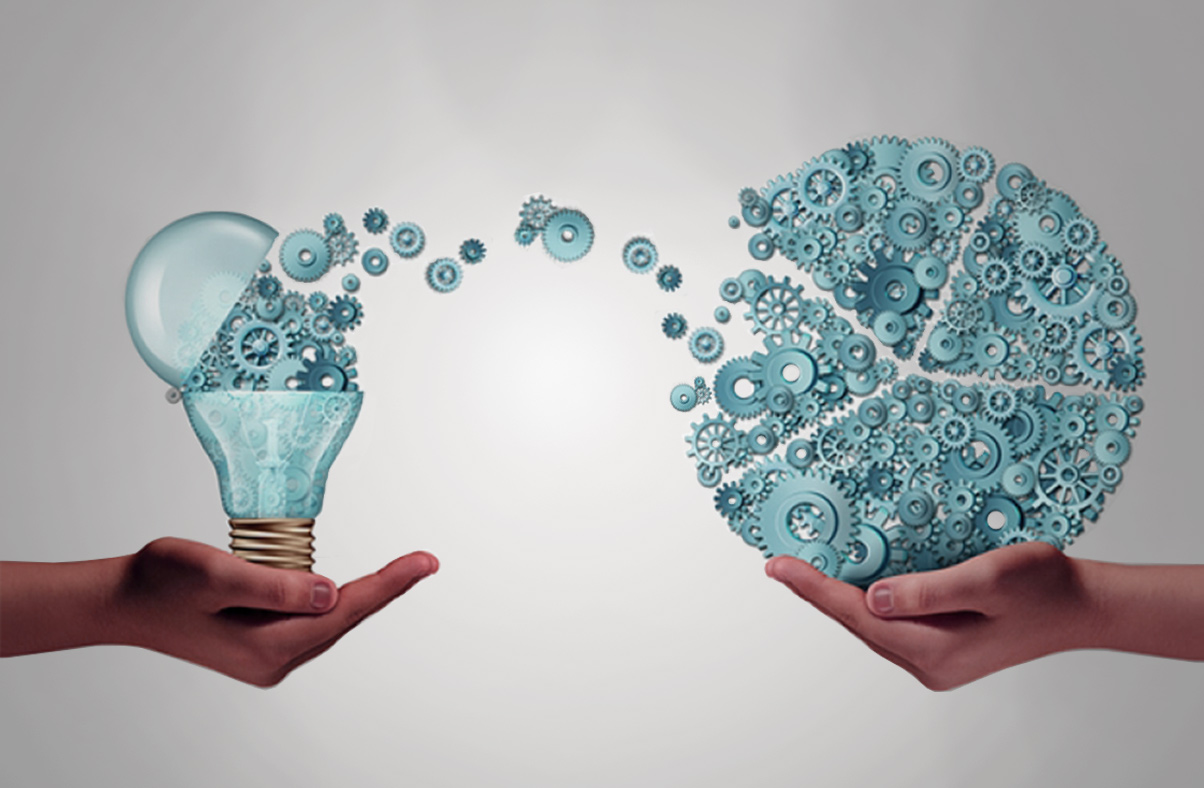 Although the enterprise collaboration software market has been around for over 20 years, innovation management software is a specialized segment that helps companies guide and support their innovation process. With the right tool, the idea generation, implementation and evaluation, and market tracking phases can be managed to create successful business outcomes.
What is innovation management software (IMS)?
"IMS are action-based, goal-centered, and results-oriented applications that adopt a process-based life-cycle approach to facilitate heterogeneous teams' collaborative efforts in managing innovations, including inception, realization and commercialization."   (L Dooley and D. O'Sullivan, 2003)
It just means that organizations have moved away from suggestions boxes in the office reception to sophisticated digital platforms to capture ideas from employees, customers, prospects, partners, suppliers, or other relevant parties. These ideas are assessed on previously defined criteria and then the best ones are selected for execution.
Why do companies need innovation management software?
A 2013 Accenture study revealed some interesting findings:
Companies which have formal innovation management systems, compared to those that have not, are almost twice as likely to say they were very satisfied with their initial idea generation abilities (43% vs. 24%). And, thirty-eight percent vs. 22% are very satisfied with the return on their innovation investments.

Companies with a formal system in place are 75% more likely to define their innovation strategy as delivering a competitive advantage (21% vs. 12%), twice as likely to introduce a new business process or model (32% vs. 16%), and 35% more likely to say they are typically first to market with new products or services (50% vs. 38%).
In this knowledge-driven economy, innovation is perhaps the strongest guarantor of survival for an organization. Unfortunately, innovation initiatives are hard-pressed to drive economic growth as they are expected to.
They fail because of reasons that include (Troshani, I., Rampersad, G., and Plewa, C. (2011))  
Poor innovation implementation

Ineffective management of innovation outcomes

Inadequate stakeholder participation

Poor innovation planning

Excessive reliance on software developers
Well-designed innovation management software is expected to fix these issues. Whether you are looking for game-changing initiatives or simply renovation, a formalized end-to-end innovation management process is far more likely to ensure risk reduction and execution of innovation at scale and with speed.
Innovation management software is so much more than idea management platforms in the market today. Ideas are only part of a bigger process. For long-term growth, organizations need a well-managed process of innovation—one which is consistent.
To trigger creativity capabilities within the organization and drive business, process, or product innovation, good innovation management software will help identify challenges and needs of an organization, engage with a preferred community for insights and feedback to achieve measurable outcomes, and offer self-service, support, and training. Through ideation sessions using techniques such as hackathons that can take an idea to a proof of concept, which will clear the path for innovations.
What are the types of enterprise innovation management solutions?
In a whitepaper, leading global strategic management consulting firm CIMdata categorizes Enterprise Innovation Management (EIM) solutions into three classes:
| | |
| --- | --- |
| CLASS 1 (Innovation Engagement) solutions | Encourage engagement for large group creativity by internal and external networks, individuals, and communities to address innovation needs (e.g. open innovation contests, co-creation) |
| CLASS 2 (Innovation Guidance) solutions | Structure and support business strategy and decision making about processes that are critical to realizing on-target and profitable innovation (e.g. roadmapping, portfolio management, idea management) |
| CLASS 3 (Innovation Delivery) solutions | Support the collaborative creation, management, dissemination, and use of product definition information across the extended enterprise (i.e. supply partners, customers) |
The first two solutions are often clubbed together under the term innovation/idea management by many vendors. In the paper, Polat and Versprille propose a framework to show "where and how the three solutions fit together."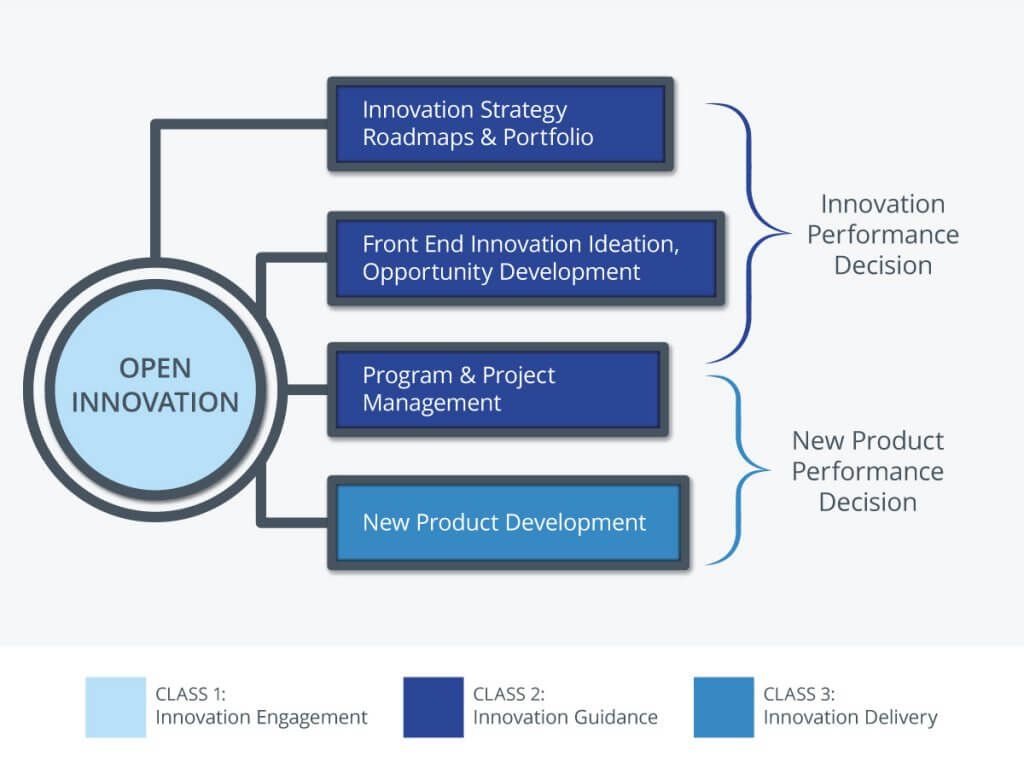 Companies must remember to assess the solutions by checking how open, configurable, flexible, and adaptable they are.
How do you evaluate innovation management software?
Companies will assess the software prioritizing basic/ advanced functionalities, ease of use and intuitiveness of the reporting tools and dashboard, affordability of the solution, and alignment of the solution's delivery mode with expectations. Idea collection is useless without some tool for idea enrichment.
At a minimum, the offering must be a centralized repository for the users to share and view ideas. It must have features that allow users to comment and discuss the uploaded ideas. Crowdsourcing algorithms (e.g. pairwise voting) can help separate the grain from the chaff.  The platform should allow collaboration via crowdsourcing or open innovation. The users should be able to upvote or downvote ideas to filter and select the most promising. The software must provide relevant social media features (e.g. activity streams).
Advanced features could be gamification (e.g. rewarding participation via badges, leaderboard, virtual currency) to maximize engagement, interactive dashboards (e.g. show stages of the idea in its lifecycle visually) and built-in analytics, ways to identify top influences in the innovation community, workflow management, and better options for idea collaboration and prioritization.
For internal innovation, the platform should be effective in getting the crowd to the platform through extrinsic (incentives, rewards) and intrinsic (peer recognition, increased visibility in the organization) features. The experience must be fun and compelling to build your innovation pipeline and create an environment that encourages creativity and risk-taking. If your potential innovators can't find a satisfactory answer to "What's in it for me?," then there is really not much motivation to contribute.
Communication is important for people to commit. They need to be convinced that this is not a stand-alone initiative but part of an end-to-end innovation process. This step requires a great deal of involvement from the management.
In a nutshell, well-architected web-based IMS should be able to do the following:
Enable soliciting and harvesting of ideas

Provide scoring/ranking and feedback features to help choose

Boost an internal culture of innovation

Allow greater transparency as ideas are in a central repository

Foster relational advantages for firms, both externally and internally

Encourage collective collaboration in the idea-sharing community

Promote sharing of best practices and ideas across barriers

Help companies increase speed to market

Help manage idea campaigns and workflow

Provide tools to visualize and analyze data

Ensure security and be easy to integrate into the existing IT landscape

Aid strategic decision making
How do you evaluate an innovation management software vendor?
These are some of the key weighting factors when companies evaluate the vendor.
Is the vendor a proven player in the field?

Is the vendor going to be around for a long time?

Does the vendor's strategy reflect long-term commitment in the space?

Is a product/portfolio roadmap chalked out for the future?

Are the vendor channels strong?

Can the vendor provide support after sales?

Does the vendor have an appreciable reach and market presence?

Can the vendor confirm proper controls, audits, and policies in place?

Will the vendor provide a solution that's secure?

Does the vendor understand the importance of disaster recovery for an organization?

Will the vendor provide expert consulting services?

Can the vendor offer access, through webinars and training, to best practices?
Conclusion
Innovation Management tools alone will not address all your innovation challenges. However, it can help you jump-start your innovation and get tangible results quickly. A novel strategy encompasses good idea generation, evaluation, and implementation techniques. You need to tweak the culture and mindset when change is required. Align innovation when the goal setting, planning, and delivery processes involve many organizations in the enterprise. Seal the cracks in the fragmented information-sharing process/system. And, manage the ever-increasing complexity of the product. The innovation environment is extremely demanding and organizations can't afford to not have a well-designed strategy for end-to-end innovation life-cycle management.  
About the Author