Finding the balance between incremental and disruptive innovation
If there's one thing people world over will agree on, it is this—no business will sustain if it can't innovate. People are scrambling to design and manage the perfect innovation portfolio, but the discrete, uncoordinated initiatives are leaving them more confused than ever.
Management can't decide whether continuously improving their core offerings or striving for breakthrough innovation is the best bet for long-term viability and excellent margins.
Innovation remains the biggest challenge for the 21st-century leaders.
What is the way forward?
How can businesses reap potential rewards of innovation while effectively managing inherent risks? How do managers convince stakeholders of the promise of untested ideas, telling them that failure is a part of this journey?
More importantly, how can they achieve the right mix of different types of innovation?
The decision will largely depend on investment capabilities, revenue performance, and competition. Before companies think big, they need to understand the entire range of possibilities and risks.
The company can choose incremental or sustaining innovation—think line extensions from established brands such as Coca-Cola and Cadbury's that have added new revenue sources. Or, the company can fortuitously become a market leader with disruptive innovation—think of personal computers as the disruptor and mainframe computers as the disruptee.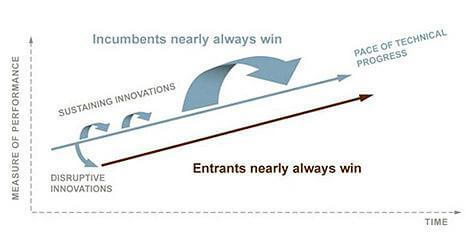 Source: Clayton Christensen
Innovation involves finding better ideas, lowering costs, and reducing time-to-market. Companies that follow the incremental model often tend to get complacent; only modifying an existing product or service could get them right out of the game. Although Google's Gmail and Apple's iPhone succeeded with this approach, Kodak didn't. (Look at a counter argument on HBR here.) Being the disruptive change, a company, such as Netflix, understands that exponential growth is within reach despite a longer gestation period and a flexible business model.
To learn more about how Innovation Management software can help your business, click here
Every winning value proposition will sometime or the other be replaced by a more robust one; management shouldn't blindly defend the traditional framework, rather they should embrace change as the only cornerstone of the business. "Cultural characteristics and management approaches" that sustain a mature business are often incompatible with the concept of generating new business. Yet once you disrupt, you need to sustain.
Companies need a hybrid strategy, one where the tried-and-tested methods are balanced by the risky, emerging ones, that is an aiming for synergy between the immediate and the future. For example, Procter and Gamble "organized around innovation to drive sustained organic growth." The company chooses a customer-focused differentiation strategy. "That strategy is dependent on innovation to differentiate–disruptive, sustaining, commercial innovation," says former P&G Chairman and CEO A.G Lafley.
In the early 2000s, the company invested $5 to $10 million each on about 20 to 40 projects. Today, P&G finances 10 to 20 more with a total budget of about $200 million. Without investing more and bringing down the average cost per initiative, the company has a larger pool of innovative ideas to choose from, remaining a game changer. Then you have one of the most diverse companies, the Virgin Group, successfully achieving differentiation and innovation. The company uses the radical approach to innovate the offering and a sustaining approach to bring it to market.1
Moderation is key
In Innovator's Dilemma, Christensen says companies can continue improving its core products, services, business models, or processes while setting aside an autonomous unit to handle disruptive initiatives and approaching it patiently and iteratively. (Innovator's Solution is a great read too.) Transformational activities are ambitious and uncertain, but if executed properly can be harbingers of phenomenal growth. But that doesn't mean everyday improvements will not yield a steady ROI either.
Eric Schmidt's 70-20-10 innovation rule will not hold true across sectors and geographies. A company's innovation mix depends on its vision and the state of the business. Although both schools of thought have an appreciable number of advocates and critics, it is safe to say that the right balance for every company is different.
About the Author